Sun 26-08-2012 : Dans Magazine NL, Ruth Naber / Part 1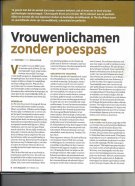 'I don't believe the world belongs to young women, even though we may live in this incredibly photo-shopped society.' Choreographer Keren Levi (Israel, 1972) is referring to the perfect bums and boobs beaming at us from billboards and bus stops. In The Dry Piece she presents a range of views on femininity, beauty, and perfection.
The female
body
stripped
of any frills
BY Ruth Naber • PHOTOGRAPHY Anna van Kooij
Four naked women gaze at the people in the audience. They are not especially pretty, but unmistakably feminine. A tall woman has largish, drooping breasts; her hair cut short. Another is slim, going on skinny, small and fragile in comparison with her fellow dancers. We see them, and they see us. There is no wonderful music for these women to hide behind. No aesthetic movement. They are simply standing there in that uncomfortable silence, as vulnerable as dancers can be.
MEMBRANE
In The Dry Piece, choreographer Keren Levi displays the female body stripped of any frills. Direct and tangible. At least, she does so at the beginning. After a while the women disappear behind the big transparent screen they stood in front of at the start. They reappear as images on the screen, filmed from above. They begin to move to the hypnotising repetitive music, forming seemingly organic figures. Circles, squares, stars formed by four pairs of buttocks. After a while the dancing women also become visible through the screen, lit up in the warm spotlight. And we see their bodies from even closer up, in extreme close ups even. A mountainous bum, the slope of someone's back. The dancers are there, we see them through the screen. But they never show themselves as open and bravely as they did at the start of the piece.
'Alright, part of the reason I did that was to protect them somehow,' Levi admits. 'And for the audience it's less confronting to watch the dancers through the screen. It's kind of like a membrane. But the most important thing is: I want you to yearn for the dancers, to long for their physical bodies. As a choreographer I ask questions. I am happy to confuse you.'
WOMEN IN BATHING CAPS
We are at the Grand Café Amstelhoeck, next door to the Muziektheater in Amsterdam. It is a cool summer's day. A reluctant sun appears now and then to shimmer on the grey river Amstel's surface. Levi tells me how at the start of the creative process she already knew that her dancers would be performing naked in front of the audience. And that they would be dancing behind a big screen, onto which their dancing would be projected, filmed from a series of different perspectives. She drew her inspiration from two very different sources. She was, for instance, hugely drawn to synchronised swimming. And especially the living works of art choreographer Busby Berkeley used to make in the water. Flower-shaped designs, consisting of large numbers of women in bathing caps. 'The strength and the precision it takes to form such a work of art. The physical prowess. And the idea that symmetry appeals to our sense of beauty. I had a vision of creating a water ballet, but dry. Hence The Dry Piece.'
She juxtaposed this idea with The Myth of Beauty by the feminist Naomi Wolf. A declaration of war on the commercial world where a one-dimensional depiction of the female body is used to make money. 'I was given the book by my sister, who is studying sociology. We automatically associate a naked female body with sex. We are surrounded by images in which the female body is represented as a sexual object. Sex sells creams, cars, jobs. These commercials also refer to our fear of becoming old and losing our beauty. We see the perfect body depicted and thanks to technological advances the image becomes further and further removed from our real bodies.'
The screen, a symbol of the illusory depiction of our bodies, is a life-size presence in The Dry Piece. 'At first, four women show us their un-photo shopped bodies. How do we see them? How do we then feel about our own bodies? I am trying to get the audience to look beyond this association with sex that it evokes in the first instance. Get them to see the anatomical body, the body that can get hurt, that can dance.' Then Levi shows us a live adaptation of the bodies. They are there, but at the same time, they are not. And they form the most magnificent figures on the screen, to then drift apart again.
EXTREMELY PHYSICAL
In the mid-1990s Levi left Israel, where she was a dancer with the Batsheva Company, to go and work as a freelance dancer with a number of companies in Europe. Twelve months later she was creating her first choreography in the Netherlands. 'In the late nineties there was such an openness here. There was scope to work on small-scale projects. I was floating really. Working from one project to the next.' And it didn't do her any harm. Her first full-length production Territory, a choreography with four dancers and four security cameras, won an award for its innovative character. With the extremely physical Couple-Like, made with Belgian choreographer and dancer Ugo Dehaes, she toured all over Europe. Couple-Like #2, the version they made for young audiences, also received accolades and can be seen again this autumn. 'Choreographer Pieter de Ruiter once told me that his definition of success is continuity,' says Levi. 'The success with Couple-Like has helped me continue to do what I love doing: making choreographies and teaching. They feed off each other.' The choreographer is a teacher at schools such as the School for New Dance Development (SNDO) and the Modern Theatre Dance course at the Amsterdam School for the Arts. It is no coincidence that the four dancers in The Dry Piece have all studied at these schools.
OUTRAGED
'The biggest challenge with The Dry Piece was working with an extended team. Right from the start we worked in a semi-theatrical setting. It meant that we could align the lighting, cameras, dance and music down to the smallest detail. Work of such a standard, with such complexity, we won't see it in 2013', Levi declares. 'Unless you work over there', and she bobs her head indicating in the direction of the Muziektheater. 'But I don't think the Muziektheater is interested in this kind of performance. As an independent maker I am outraged, like many of my colleagues, about the way the government has decided to subsidize the arts from next year. They have simply crossed out the production houses. How are we going to rehearse? I know what that can be like. In Israel when you rent a theatre space, all you get is the bare theatre space. You will not find a single cable there. Lighting, cable constructions, everything will cost money. You have to assemble a piece in six hours. Who does that in this country? The good thing is that the infrastructure of the production houses is still there. We must preserve that. But it is not unthinkable that the situation over here will be like in Israel or New York, where dance artists have to manage and create their work under very difficult circumstances. But who knows, perhaps this is a favourable development, because it means that now I simply cannot go on assembling for five months.' Levi remains positive about the future. And with two productions that will be touring the theatres this autumn and a big project to look forward to, things do not look as grim as all that. 'Creating things makes me happy', she says. 'Not that it's all bliss, but it is my condition for survival.' And following the grey Amstel river, with a reluctant sun shimmering on its surface, she walks back to work. •
The Dry Piece will be touring Dutch theatres from 21 September. www.kerenlevi.com
SEPTEMBER 2012
DANS MAGAZINE 19
back